Ask Dan Ariely anything you want — Friday on Office Hours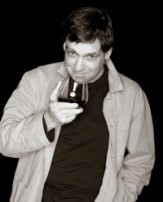 Duke University professor of behavioral economics Dan Ariely has already schooled us on irrationality. Now he's back to educate us on — no lie — dishonesty.
Join us Friday, June 29, at 1pm EDT for the next episode of Office Hours, when we'll be talking to Ariely (that's him to your right, sipping wine) about his fascinating new book, The Honest Truth about Dishonesty.  Just dial (703) 344-2171 x203373 to listen live. Once you're on, you'll be able to ask Ariely anything you want — and he might even give you an honest answer.
While you're waiting for the show (which we like to call "Car Talk…for the Human Engine") you might want to give Ariely's new iPhone app a whirl. It's called Conscience+, it's free, and it's meant to make tough decisions a little bit easier — or at least more fun.
So join us this Friday, June 29, at 1pm EDT — and have your questions ready! As always, Office Hours is free of charge and free of advertising. Previous episodes are available for download here or from iTunes.
---