Are commissions the only way to motivate salespeople?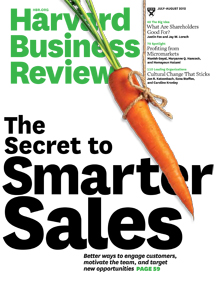 Let's face it. Salespeople aren't like the rest of us. You and I want a decent paycheck, of course. But we also seek much more from our work – the chance to learn, to contribute to the world, and to climb the ladder of self-actualization.
But not the folks in sales. They are — and here comes the adjective we deploy most often – coin-operated. Slip a quarter into the slot and they'll do a little dance. When time runs out, insert another coin or they'll stop dancing.
In the new Harvard Business Review, I've got a 2-page article challenging this view. It explains why commissions sometimes backfire — and introduces a few places that have eliminated commissions and seen sales rise.
You can read it here. (Free registration required. UPDATE: Article is now free and outside the firewall.)
***
As it happens, this question — Are salespeople different from the rest of us? — was one of the first questions I got from readers after publishing
Drive
. And I became so interested in the broader topic of selling that for the past year, I've been writing
a book about the subject
— the
first book
on sales for people who'd never read a
book about sales
.  You'll be hearing more about that in the coming months in advance of its January launch.
---