Factoid (and peeve) of the day
During last year's presidential campaign, both McCain and Obama endlessly broadcast ads that promised "good middle class jobs." And whenever an ad intoned that phrase, up popped an image like the one below, which comes from an Obama campaign stop: burly, 50-something (mostly white) guys wearing dirty uniforms.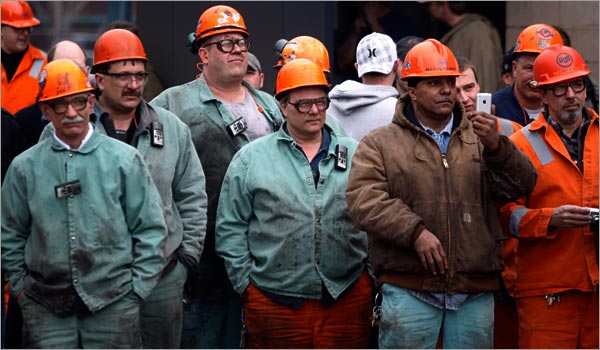 What drove me crazy about these ads is that this isn't what "good middle class jobs" look like in this country — and hasn't been for about 30 years. For the latest confirmation, check out this report on union membership issued by the Center for Economic Policy Research and summarized in the NY Times:
"Just one in 10 union members is in manufacturing, while women account for more than 45 percent of the unionized workforce."
In other words, today 90 percent of people in labor unions (!) don't work in manufacturing. And nearly half of all union members aren't men.
Which leaves me wondering: In the 2010 election season, do you think politicians will change their iconography to reflect the realities of the 21st century workforce? Or do you think they'll hold out the false, empty, (and for most people, unappealing) promise that we all can return to 1950s Pittsburgh?
---