Idea of the day: Mini genius grants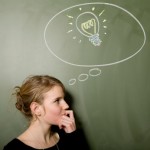 Over at the HBR blog, Julia Kirby offers up an innovation that is brilliant (and that I wish I'd thought of myself.)  You know how each year the MacArthur Foundation awards those famous genius grants? How about if organizations did something similar?
In a great post, Julia lays out the evidence that unstructured time and unofficial activity — for instance, the 20 percent time experiments of companies like Google, 3M, or Genentech — are ideal conditions for creativity. That's why she encourages organizations to:
. . . be is inspired by the model of the MacArthur awards. If you're in management, any slack time you give a talented employee to pursue an idea is a mini 'genius grant.' It doesn't have to be a half-million dollars — a chunk of release time might suffice. The key, really, is the signal that such creativity is valued and the recognition that people tend to come up with great stuff when they're allowed to take an occasional flyer.
Just as FedEx Days (which I write about in Drive) have begun to spread like crazy to companies beyond Atlassian, which invented them, I'm guessing that this idea will also go viral before too long.
---