Carrots and sticks: Procrastination fix?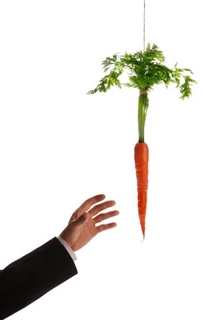 Not long ago, a bank in Colombia found itself in a managerial thicket. Its loan officers were putting off a significant amount of their work until the last week of the month, just before their monthly bonuses were calculated.
Such behavior didn't make much sense. By procrastinating, the loan officers were creating cash flow problems for the bank, stressing themselves out every four weeks, and putting their bonuses — about 35% of their total salary — at risk. What's more, they were missing their weekly targets, which cost them a penalty of 5% of their commissions.
¡Qué problema!
Four researchers — Ximena Cadena, Antoinette Schoar, Alexandra Cristea, and Héber M. Delgado-Medrano — decided to see if they could motivate these bankers to do better. They divided the branches of the bank into an experimental group and a control group. Employees in the experimental group could win small prizes like movie tickets for meeting their goals during the first two weeks of every month. The bank also published a newsletter that featured the month's three top employees.
Later, the researchers added another benefit. Twice a month, "branch managers met with loan officers to talk about their performance and to remind them of their weekly targets and to encourage them to work harder to achieve them."
Nothing else about the bonus structure or employee compensation changed.
These interventions worked — big time. The loan officers became much better at distributing their workload evenly throughout the month. The quality of their portfolios stayed the same.  And "loan officer compensation – independent of program prizes – increased by 25% per month." (Full paper is here.)
¡Qué magica! Procrastination problem solved!
Except – all these lovely results disappeared when the incentive program was taken away. Or, as the researchers put it: "these effects did not survive after the intervention was stopped at the end of our experiment."
Motivation 2.0 says the way to keep the loan officers from lapsing back into bad procrastination habits is to keep the carrots and sticks coming. But that's rarely sustainable. And it often risks misdiagnosing the true problem and finding the most effective solution.
Maybe the deeper mistake was making the monthly bonuses the most salient aspect of these loan officers' jobs. And maybe, instead of devising tactical steps to preserve that salience, the bank should have worked to reduce it. They could have paid healthy base salaries – and awarded a modest year-end or semi-annual bonus based on how many loans each person closed, levels of satisfaction among bank customers, and the bank's overall performance. (Yes, I'm suggesting they tear a page from the Red Gate playbook.)
Once these controlling external rewards became less prominent and harder to game, the bank could have worked to raise the salience of other aspects of the job. Remember: Partway through the experiment, the researchers added a new tack. They asked the loan officers' managers were to meet with their employees a couple of times a month, discuss their goals, and generally encourage them. It was only after this intervention that the loan officers reported a significant decrease in job stress and a significant increase in job satisfaction. Besides, by their own report, what these loan officers craved was recognition and feedback (the newsletter) and community and connection (encouragement from their supervisors).
Make no mistake: I'm all for paying people what they're worth. And I'm opposed to schemes that compensate people the same regardless of their performance.  But whether you're at a bank in Bogota or a school in Schenectady, relying on "if-then" rewards to encourage great work is like guzzling six cups of coffee and downing three Snickers bars for lunch. It'll give you a burst of energy – but the effects won't last. For the long-term, human beings need a very different kind of nourishment.
---