A cool new (free!) productivity tool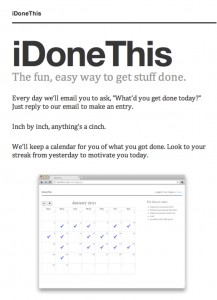 At the heart of most organizations is a disconnect.
Teresa Amabile and Steven Kramer have shown that making progress on meaningful work is the single most motivating aspect of any job. But . . . many people don't know what kind of progress they're making – because their main source of workplace feedback comes only once a year in that hideously awkward and bizarrely formulaic ritual known as the annual review.
Fortunately, several companies and entrepreneurs are now riding to the rescue, armed with techniques and software to irrigate the modern workplace's feedback desert. But last month, I discovered a tool for individuals that – bang for the buck – is one of the most useful yet.
It's called IDoneThis — and here's how it works:
You register for free on the site. Then each afternoon or evening, at a time that you designate, the IDoneThis folks send you an email asking what you've accomplished that day. You reply to the email — and IDoneThis compiles the responses. You can then visit your own private online calendar to remember what you achieved — or didn't — yesterday, last Tuesday, or three weeks ago.
I've been using IDoneThis for about a month now – and I've found it helpful, revealing, and occasionally disappointing because of what it reveals. It's not a magic elixir for anybody's productivity woes. But for me at least, spending 60 seconds each night responding to that IDoneThis email gives me a hint about whether I've really moving forward on stuff that matters.
---