Can a tomato make you more productive?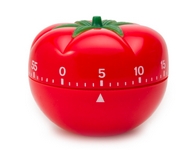 My quest to get more and better work done is endless — but not nearly as endless as my willingness to blab about that quest with anyone who'll listen.
In the last few months, a few wise souls who've counseled me have leaned in, Mr. McGuire-like, and whispered in my ear a single word: Pomodoro.
What-the-heck-o?
Pomodoro. It's Italian for tomato, and it turns out to be a deceptively simple time management hack with a growing fan base. Some Pink Blog readers, no doubt, have heard of it. But to me, this tomato was super fresh.
All you need is a kitchen timer — in Italy, kitchen timers are traditionally tomato-shaped — pencil, paper, and task that needs to be done. The Pomodoro Technique website has more details, but basically you set a kitchen timer for 25 minutes, work until the bell rings, and then take a 5-minute break. After four of these "pomodoros," you've earned a 15-minute break (the pencil and paper are for keeping track).
You could stick with a kitchen timer or even your iPhone. But here are a few apps, gadgets, widgets, and websites that make pomodoro-ing even more fun:
(BTW, if you like this idea, you might also dig the post, The Power of an Hourly Beep, from back in October.)
---