Should you drink bottled water? (And other questions for Charles Fishman)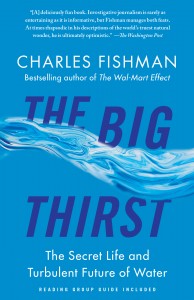 Last year, my pal Charles Fishman wrote a really smart book about a really big subject: Water. To research his topic, which is both monumental and barely noticed, he journeyed from Las Vegas to New Delhi to Burlington, Vermont, to rural Australia to report on the state of H2O.
Fishman learned that we've been living through what he calls "the golden age of water" — when, at least in the developed world, water has been unlimited, safe, and free. But that era is ending, he says. And throughout the world, we'll need new ways to source water, to price it properly, and use it less wastefully.
His book, The Big Thirst: The Secret Life and Turbulent Future of Water, comes out in paperback today. (Buy it at Amazon, BN.com, or IndieBound). So I asked the man whom many call "Fish" to answer a few questions for PinkBlog readers.
Here's Fish . . . on water:
Bottled water seems to be the water issue people love to debate. You've been to Fiji, to San Pellegrino, to Poland Spring. So school us: Bottled water, okay or not?
If you pour a glass of Pellegrino from its beautiful green-glass bottle, two things are amazing: The water has traveled from the Italian Alps, across the Atlantic, to your café table. And the bottle it's shipped in weighs more than the water. If you buy a half-liter of Poland Spring at 7-Eleven for $1.29, you get four good swallows of water. You can then refill the empty bottle from your kitchen tap every day for 3,000 days — every day for 8 years and 3 months, long enough to go to college and medical school — before the tap water costs $1.29.
Bottled water is silly. Except after a natural disaster, no one needs a bottle of Evian or Fiji Water. It's an indulgence. But lots of things we enjoy are indulgences — Oreo cookies, French Merlot, Colombian coffee, "The Good Wife" on your iPad.
In the U.S., we spend $21 billion a year on bottled water. We spend $29 billion a year maintaining our entire water infrastructure — pipes, pumps, treatment plants. And bottled water can't rescue us in a crisis. When your house is on fire, you can't call Dasani.
So enjoy bottled water, if that's how you want to spend your money. But don't grump when the water bill goes up. That system needs attention and modernization, and compared to a bottle of Evian, it's a bargain.
A related question: You say in the book that water — the non-bottled kind — is too cheap and that its low cost hurts us. How can inexpensive water possibly be bad?
In the U.S., the average home water bill is $1 a day — $34 a month. In most of the country — and most of the developed world — that $34 doesn't even cover the cost of delivering the water, let alone maintaining and modernizing the system.
In the developing world, the poorest people pay an almost unimaginable price for water — women and girls have to walk to fetch it, often sacrificing all other activity. No schooling for the girls, no real jobs for the women. If they can walk to fetch that water, why can't a pipe be laid to bring it to them?
We've grown up expecting water to be cheap. Yet both cable TV bills and cell phone bills are typically twice what water bills are. A resource that is as cheap as water ends up used badly — misallocated, wasted, taken for granted, poorly taken care of.
If we all paid a little more for water, two things would happen: We'd all use it more smartly; and there would be enough money to keep the water system healthy, sustainable, and smart.
So if PinkBlog readers could take one action to move in that direction — to keep the water system, healthy, sustainable, and smart — what would it be?
Start simply. Dig out a couple recent water bills, and figure out how much water you are using each month and each day. When I started writing The Big Thirst, the Fishman family was using 350 gallons of water a day for four people. When I finished, we were using 250 gallons a day for four people — way under the US average of 100 gallons per person.
So figure out how much water you're using, and then get everyone together over dinner and see if you can cut your use just 10 percent — shower instead of taking a bath; water the lawn more carefully; don't flush the toilet when you pee; don't turn the faucet on full force if you're just rinsing dishes, washing vegetables, or washing your hands, times when volume doesn't matter. You'll be amazed how very small changes add up.
And one more thing: Turn off the lights, the TV, the computer monitor. Making electricity uses more water than anything in the US. When you turn off the lights, you're saving as much water as when you turn off the faucet.
---