Emotionally intelligent bubble wrap
From NPR's Robert Krulwich comes the tale of how a bus stop in Milan is making the wait for public transportation more bearable. The answer: Bubble wrap — cut into different sized sheets based on how long you expect to wait.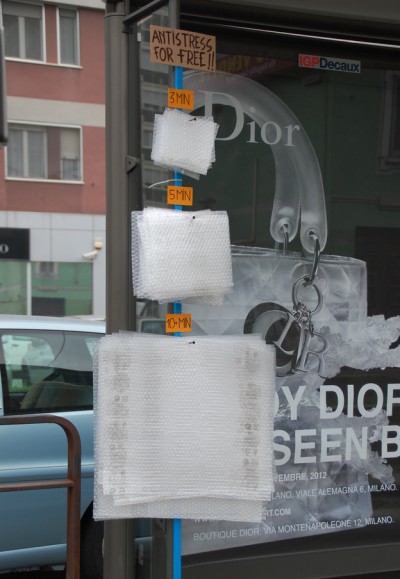 Occupied time, it turns out, feels shorter and less stressful than unoccupied time. So anything that keeps people's minds and fingers doing something will make the wait seem less excruciating. In other words, who needs emotionally intelligent signage when you've got tactilely alluring bubble wrap?
NPR has more photos. An Italian conceptual artist is behind this clever scheme. And MIT's Richard Larson is the man to see to understand the mathematics and psychology of lines and waiting. (One finding: The more people behind you in a line, the less like you are to try to switch queues.)
---